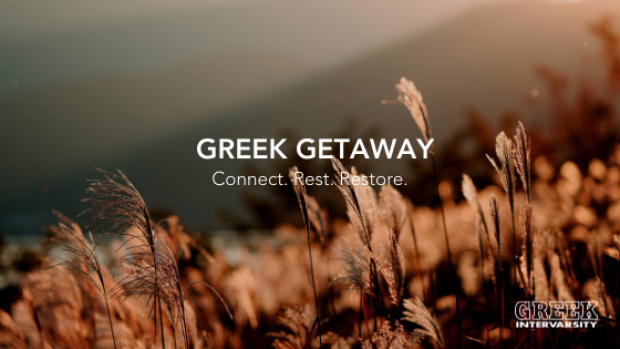 Greek Getaway
Since many of us are looking for a way to find rest and form our community this year, Greek Getaway is designed to help Greeks connect with God in a deeper way and build local community in this time of being socially distanced.
This October, Greek InterVarsity is hosting Greek Getaways - both locally and digitally. Check with your Greek InterVarsity staff to find out when your campus' Greek Getaway will be.
Don't have Greek InterVarsity on your campus, or your group isn't planning a Greek Getaway? Don't worry! You can join our digital National Greek Getaway October 24th. Fill out the registration form below to sign up!
National Greek Getaway - Oct. 24, 12:30-5 Eastern (9:30-2 Pacific)
Meet Your National Greek Getaway Hosts

Mark Abdon
Delta Upsilon
Mark is an alumnus of Depauw University and lives in Indianapolis. Mark is a national leader with Greek InterVarsity, helping students start Greek IV on their campuses.

Mark's favorite thing about being Greek in college was that there were always "shenanigans" happening- whether intramurals, pranks, or just someone to hang out with.

Alison Smith
Pi Beta Phi
Alison is an alumna of Western Michigan Univ. and lives in Park City, UT. She is the Director of Communications for Greek InterVarsity and hosts "The Greek & Christian Podcast"

Alison's favorite thing about being Greek in college were the late night adventures with her Big sis around Greek row. Follow her on instagram @alisonmarie9

Jessica Pryor
Alpha Gamma Delta
Jessica is an alumna of Sonoma State University and lives in Northern California. She serves on the national team with Greek InterVarsity, equipping students to lead in their chapters on campus.

Jessica's favorite thing about being Greek in college was being able to establish lifelong friendships and fun memories.